BI3D-302VM Measurement Microscope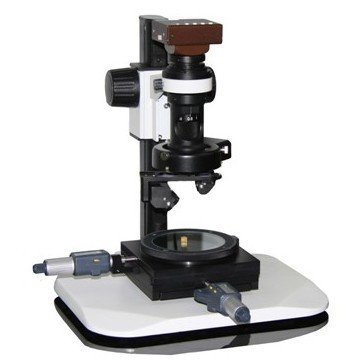 BI3D302VM Measurement Microscope features the quality optical system,low distortion, high resolution, flat and large field of view, high depth of field and superior parfocality. The novel design and one-up technology make it easy for operation.
The 2D/3D angle lens attachment is changed manually from 2D image to 3D image. The microscope can realize 3D image effects for observing the components and deep holes. It remains the same superior resolution and the central position keeps consistent.
The 3D 36 dgree angle rotary observation lens can achieve 95mm (Max) working distance,which is the highest level in the world so far. Digital and Analog video systems can meet the different users' demands.The 3DM-02 Microscope can be widely used in micro-electronics, precision electronic inspection and PCB solder testing industries.
360 Degree Rotation
Package includes
BIHT1008 microscope lens Parts: Zoom lens 1X objective lens 2D/3D Angle attachment
7X-150X( base on 17″ LCD, 1X objective lens) 14X-300X ( base on 17″ LCD, 1X objective lens)
HA-TS50 white Microscope stand
Travel Distance: 250mm Vertical Length: 325mm
Manual exposure control
NO COMPUTER!
1/2″ CMOS, 35f/s,
5.2 micron square pixels
1280×1024 XGA Resolution
HS-72 LED ring light Parts:Power supply LED Body Control box of brightness and 4-zone lighting
72LED bulbs Brightness and four-zone lighting control box
Black Suitcase
42x23x38cm
MEASUREMENT X-Y Table
Specifications of X-Y table
Dimensions: 50x50mm, on X and Y directions Dimensions of Glass: 91x91mm
With accuracy of 0.005mm or above per 5mm
Weight: 2.5kg
Dimensions of Glass Window: 83x83mm
Double sided digital outer micrometer
Double sided display enable the operation of both hands and the reading of measurement data more convenient
metric and inch transition
Precision of resolution: 0.001mm/0.00005″
Optional Accessory
| | |
| --- | --- |
| Image Sensor | CMOS, Color, Progressive Scan |
| Optical Format | 1/2.5-inch (4:3) |
| Active Imager Size | 5.70mm(H) x 4.28mm(V) |
| Active Pixels | 2592H x 1944V |
| Pixel Size | 2.2 x 2.2µm |
| Shutter Type | Global Reset Release(GRR), Snapshot Only, Electronic Rolling Shutter (ERS) |
| Color Filter Array | RGB Bayer Pattern |
| ADC Resolution | 12-bit |
| SNRMAX | 38.1dB |
| Pixel Dynamic Range | 70.1dB |
| Operating Temperature | –10°C to +50°C |
| Photo Resolution | 2592×1944/1920×1080/1280×720/640×480,Selectable Resolutions for Capturing Images |
| Video Size | 720P/15fps |
| Exposure Setting | Automatic/Manual |
| White Balance Setting | Automatic/Manual |
| Data Interface | USB2.0 |
| Lens Mount | Standard C-mount |
| Operating Systems | Windows XP/ Vista/ Win7(32 and 64-bit) |
| Measuring Software | VMS3.5, Multi Languages |