Introduction
A gemological microscope is the microscope used by jewelers and gem stone experts, the gemological microscope is the most important tool in their jobs. BDM900 series gemological microscope is especially designed to view precious stone samples and the pieces of jewelry that contain them. This microscope is equipped with multiple illumination systems to enhance the image of the samples.
Features
1. Offering crisp sharp and high-resolution image with high bright LED point light, dark field illumination and even fluorescent light source. It is a high level professional gemological microscope.
2. Designing with very good idea can greatly improve the working efficiency; it is also easy to operate and makes operators feel more comfortable.
3. Large HD LED display
4. Professional imaging capability in a user-friendly operation system of Android 
Application area
BDM900 series gemological microscope is usually used to inspect the authenticity of gemstones and in the design, creation, and repair of jewelry.
BDM900TC is composed of
A) a  gemological microscope which is a precision microscope that are capable of inspecting diamonds, emeralds, rubies, and all other types of precious stones
B) a tablet camera with 9.8″ size High Definition LED display, Android OS, and built-in 5MP camera which can captures great gemological images with a simple click.
Optical Specifications
Model
BDM900
TC
Viewing Head
Binocular Viewing Head, Inclined at 45°
○
Trinocular Viewing Head, Inclined at 45°
●
Digital Viewing Head, Inclined at 45°, 3.2MP(2048×1536)
○
Eyepiece
Extra wide field eyepiece WF15×/16 with diopter adjustment
●
Stereo Zoom Body
Zoom ratio 0.8x-5x, zoom ratio 1:6.3, working distance 115mm
●
Total magnifications
12X – 75X   (using the included 15X eyepieces)
●
10X – 50X   (use the optional 10X eyepieces)
○
Bright & Dark Field Illumination
Iris diaphragm 2mm-41mm, Bright and dark viewing field illumination are adjustable
●
Illumination
7W Fluorescent lamp
●
LED Point Light
●
6V/20W Halogen illumination, lamp can be changed
●
Focusing
Focusing range: 100mm, it is suitable for observing different size gem and sample
●
Gem Clamp
High quality steel clamp is perfect to hold the gem for observation from all directions
●
Stage
At both side, there are two gem clamp fixing holds for you to choose
●
Stand
0-38°Rotatable, so the height and angle of eyepiece can be adjusted, easy to operate
●
Base
0-325° Rotatable
●
Note: ● Standard Outfit, ○ Optional
Tablet Cameras: fits beautifully on trinocular head or eyepieces
Introduction
BLC-5097A is developed based on our BLM (BIOIMAGER LCD Microscope) series, it is a revolutionary product in microscope area which combines a tablet PC and a digital camera. It can preview, take snaps, videos, make measurement and save them, wireless transmission. It has a C-mount connector that can be connected to any microscopes with microscope adaptors. With the excellent digital image processing technology, its imaging effect is gorgeous and can beat the image processed by CCD camera. BLC-5097A has 5 Mega Pixels image sensor and can take 720P dynamic video record. Equipped with the most stable hardware and Android Operation System, binding professional multi-functional measuring software, it is easily to achieve to all your desire of exploration and discovery mystery of the microscopic kingdom. It is an Ideal instrument of industrial optical inspection, teaching and scientific research.
Features
1. Wonderful User Experience. Built-in Camera and tablet PC for previewing capture photo & video, storage, playback, wireless Data transmission, measurement etc.
2. High Quality Image Sensor. Embedded with 5 Mega Pixels high resolution and low illumination level sensor chip, the imaging effect is gorgeous and even can beat the images generated by CCD camera.
3. Easy to Install. Comes with an international standard C-mount connector, it can be installed on monocular, binocular, trinocular, stereo, dissecting and various kinds of microscopes and telescopes with optional eyepiece adaptor (microscope adaptor), which including 0.5× eyepiece adapter (Φ23mm), Φ30mm and Φ30.5mm connecting rings.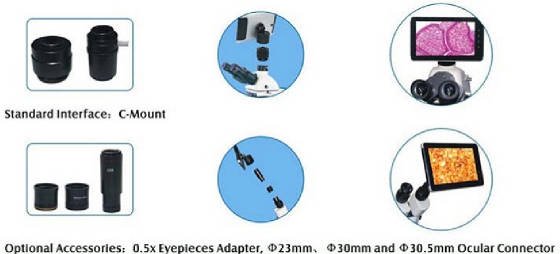 a) 0.5× C-mount adaptor is included
b) International standard C-mount connector, which fits any type of microscopes with C-mount adaptors.
c) Eyepiece adaptor Kit (Optional), include: 0.5× microscope adaptor (Φ23mm), Φ30mm and Φ30.5mm connecting rings for different diameter eyepiece tube or trinocular tube.
d) BLC-5097A can be connected to an eyepiece (ocular) tube via eyepiece adaptor kit. 
e) Wide view angle, adjustable 90˚ Inclined.
4. Integrated Measurement Software. The measurement software offers powerful functions and makes this BLC-5097A much more useful (Free upgrade later)
5. Built-in Android 2.3 Operating System. Users can download any of the tens of thousands of Android application software from the official Android Market and other websites. High quality entertainment (pictures, movies, music, reading and games).
Specifications
Digital Parts
1/2.5″ CMOS Sensor
5Mega Pixels, Full Resolution: 2592×1936, Selectable Resolutions for Capturing Images
Image-previewing Rate: 30fps at Full Resolution
Video Format: 720P/30 fps
White Balance Setting: Manual / Automatic / Preinstall Operation
Programmable Controls: Gain, Frame Rate, Frame Size, Exposure
Pixel Size: 2.2µm × 2.2µm
ADC: 12bit
Dynamic Range: 71dB
SNR Max: 40.5dB
Shutter Type: Global Reset Release (GRR)
Color Filter Array: RGB Bayer Pattern
Connection: C-mount Interface
Display
9.7″ 2nd Generation HD LED Backlit LCD Screen (1024×768)
G-sensor, Multi-point Capacitance Touch Screen
Operating System
Android 2.3
CPU
1.2GHz (ARM Cortex™-A8 Core)
RAM
1GB (DDR 3)
Storage Device
Onboard Flash 8GB, Optional: 16GB
Support External TF Card, Maximum Capacity of 32GB
Application Software
Task Manager, Browser, Calculator, Calendar, Email, ES File Explorer, Gallery, Photo/Video, Music, Search, Setting, Sound Recorder, E-book, MSN/Skype Chatting, Game Playing etc.
Google Android Market Support Thousands of Applications Download
Buttons
Top Button: Turn on/off, Volume+, Volume –, Reset
Front Main Button: Return, Home, Menu, Search
Battery
3.7V 6400mAh Rechargeable Li-Polymer Battery
Endurance in Tablet Mode: 10hours
Wi-Fi
Support Wireless Data Network, Wireless LAN 802.11b/g
Bluetooth
V2.1 + EDR
3G Net Work
3G Module is Optional Accessories, External 3G Card Slot , Support WCDMA / EVDO / TDSCDMA
Sensor Function
Onboard G-sensor, Support X/Y/Z 3axis Gravity Sensor
Onboard Electronic Compass
Interface
1* Mini USB2.0, 1*HDMI, 1* Micro-SD Card Slot (Up to 32GB), 1* 3.5mm Standard Stereo Earphone Slot, 1* SIM Card Slot
Audio
2* Built-in Class-D Digital Power Amplifier Loudspeaker, Built-in Microphone
Media File Formats
Video Supported: MPEG-2 Main-High, H.264 BP/MP/HP, VC1 SP/MP/AP, RV10 8/9/10, MPEG-4/Xvid SP/ASP, DivX 3/4/5/6, H.263 P0/P3, MJPEG Encode: H.264 BP, H.263 P0/P3, MPEG-4 SP, MPEG-2 Main-Main, MJPEG, 3D Video Primary Formats
Audio Support: MP3, ACC, ADTS, M4A, WMA
Photo Support: JPG, GIF, BMP, PNG
Language
Multi Languages:English, Czech, Dansk, German, Spanish, Russian, French, Italian, Dutch, Norwegian, Polski, Portugues, Greek, Portuguese, Svenska, Turkey, Korean, Japanese, Simplified Chinese, Traditional Chinese etc.
Power Switching Adaptor
External Power Adaptor, Input: AC 110V~220V, Output: DC5V 2500mA.

Optional Plug Types: USA, EU, UK and Japan etc.

Accessories
Power Adapter, USB Cable, User Manual
Ambient Condition
Temperature: -30°C to +70°C