Introduction
This microscope is a high level microscope which is specially designed for laboratory study. It adopts an Infinite optical system, reasonable structure and ergonomic design. With an innovative optical and structure design idea, excellent optical performance and easy to operate system, this laboratory biological microscope makes your laboratory works enjoyable.
Main Features
Four motor-drives: Objective nosepiece, XY stage and Z focus, controlled manually and automatically
Advanced technological digital dimmer with 100 steps of halogen lamp brightness division
High precision positioning leading new stage,
The clearest images with immediate access just by click on auto-focus, auto-scanning and auto-recognition features
Built-in dynamic focus mechanism; achieve the laboratory microscope automation through network remote control system,
widely used in medical diagnosis, pathological analysis and real-time teaching, etc.
3.2MP Camera with great Imaging software is included
With Infinite Optical System, Kohler Illumination, providing excellent optical quality and making Image perfect.
With low and forward position of C&F coaxial focus system, focusing knobs and brightness adjustable knob within reaching location, stable integral
structure, and reasonable ergonomic design, making operators feel more comfortable and effective.
High precision stage guarantees the high quality images
Man-machine integration touchpad controller
Built-in dynamic focusing system, auto-focus without computer
Sharp Auto-focus fetaure
Great Image Analysis Software /Travel Path
Applications
This microscope is an ideal instrument in biological, histological, pathological, bacteriology, immunizations and pharmacy field and can be widely used in medical and sanitary establishments, laboratories, institutes, academic laboratories, colleges and universities.
Accessories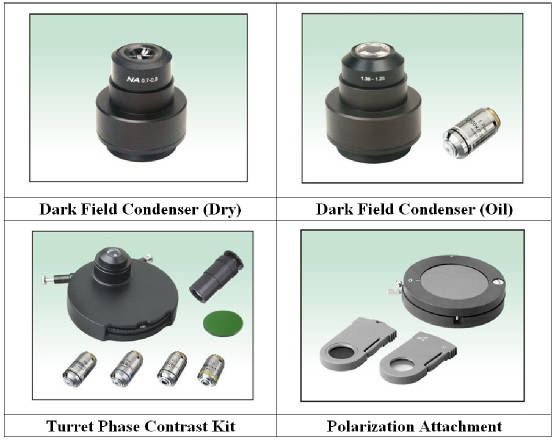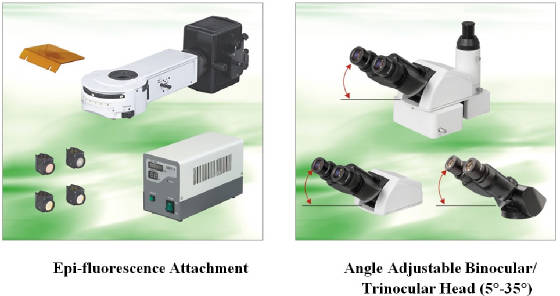 To add the optional items, please contact us or check from the Accessories page.
Automatic Control Specifications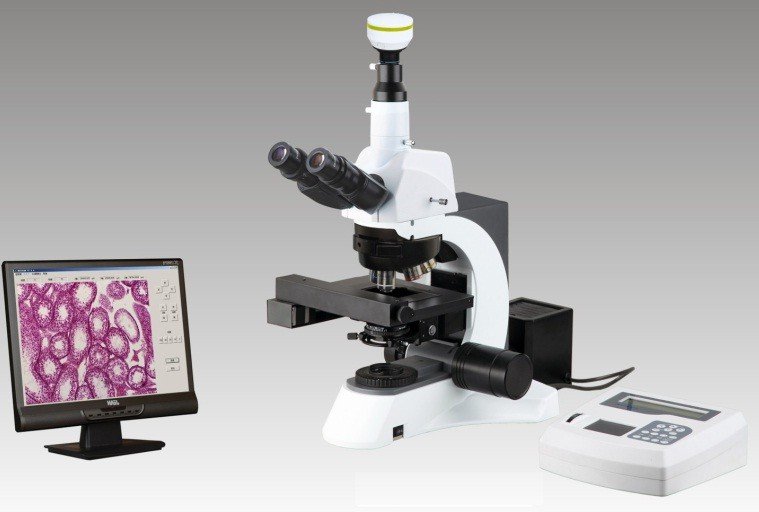 Optical System: Infinite optical system
Viewing Head: Seidentopf Trinocular Head Inclined at 30°, interpupillary 48-75mm
Camera: 1.3 MP color USB 2 digital camera with CMOS chip or higher resolution/sensitivity (Contact us)
Eyepiece: Extra Wide Field EW10x/22
Nosepiece: Quintuple nosepiece
Objective lenses: 4x, 10x, 20x, 40x, 100x infinite plan achromatic
Stage:

X-Y: 75×45 mm +- 1um; Z: 20 mm
Resolution: 1 um in X-Y and Z directions
Maximum speed: X-Y: 3 mm/s, Z: 0.3 mm/s
Specimen Holder
Illumination:

Condenser: NA0.9/0.25 swing condenser
24v/100W, Halogen Lamp
Filter: Blue and Green

Focus:

auto-focus resolution < 1um.

Control System

the control box of motorized auto-focus microscope
control software of motorized auto-focus microscope
image analysis software (ScopeImage 9.0)
USB dongle
PC (optional)

Other Hardware:

USB cable
9-pin control port cable (serial)
15-pin control port cable (VGA)
25-pin control port cable
3.5 mm single cable
DC24V 5A Adapter

Operation Temperature: 15-90°C
Power Supply: AC85V- AC220V
Power Consumption: 50W
Camera Specification
Image Sensor: 1/2″CMOS
Valid Pixel: 2048×1536 (3.0M Pixel)
Pixel Size: 3.2μm × 3.2μm
Digital Output: 24–bit (color)
Image Format: 2048×1536 @7.5 f/s; 1024×768 @30f/s; 640×480 @30f/s
Sensitivity: >1.0 V/lux-sec (550nm)
Exposure: Manual/Auto Exposure Process, Exposure Time; Adjustable: 1~500 ms
SNR: 43dB
Dynamic Range: 61dB
Connecting Mode: Insert it into Eyepiece Tube of Microscope Directly or Using Standard C Mount
Image Output: USB2.0, Directshow & Twain
Working Temperature: 0°C ~ +60°C
System Windows: 2000/XP/Vista/Win7 32bit or 64bit

With High Resolution chip (3.0M), Providing High Quality Image and Widely Used in Academic and Medical Field for High Precision and Resolution Image Capturing and Processing;

By USB2.0, getting Real-time and Non-compressing Video Data and Capturing Image Directly;
System Requirements

Operating System: Windows 2000/XP/Vista/Win7 32bit or 64bit
DirectX 9.0 or higher (for Windows 2000)
Video adapter supports 24bit color or more, and 1280×1024 or 1024×768 resolution
CPU with 1.8GHz or more
System Memory 512MB or more
Display Memory 256MB or more
USB2.0 interface
Hard Disk Space 1GB for installation plus additional space for captured images.