BioScan-40k 40k DPI Super-High Resolution Digital Pathology/Histology Whole Slide Scanner
The BioScan-40k is designed to allow scanning of an entire whole mounted histology sample attached to standard 1 x 3 inch cover slipped glass slide. The Bioscan-40k solves low power, large field of view, super high-resolution imaging problems.
This sixth generation medium-cost histology scanner scans an area of 0.9″ inches (36.14 x 21.59 mm), resulting in usable images up to 10,248 x 6,120 pixels, not interpolated. File size can be as large as 188 megabytes. Produces image files which can be saved in a variety of formats including TIFF, PICT, BMP, GIF, etc. Compatible with PC Windows & Mac based computers.
Stunning, incredible images up to 40,800 dpi (H) x 40,800 dpi (V) and 0.9″ x 2.9″  (23x74mm) area!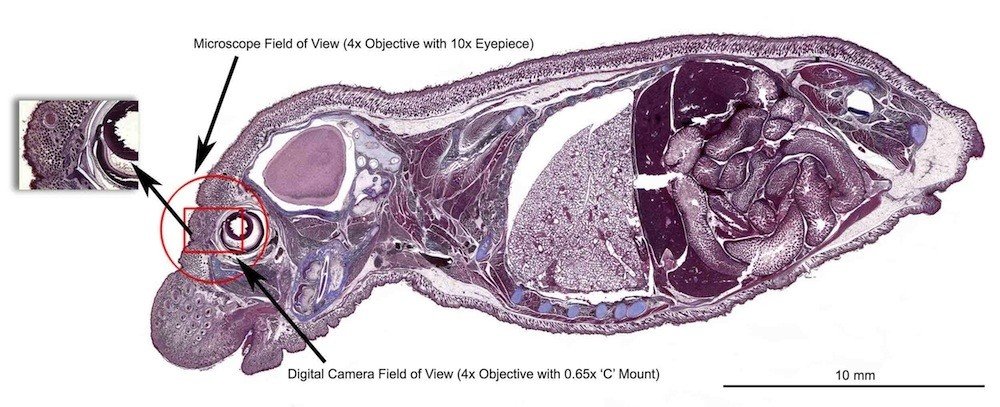 FAQ
1. What obj lens magnification equality do you expect from this system? i guess it is around 55x if i am not wrong.
The magnification of our Obj lens itself is 4.3X, but it will be around 70X after CCD system processing.
2. How long will it take if you capture a 10mm x 10mm area at full resolution of 40k x40k, and also try at 30k x30k, 20k x20k, 10k x10k  dpi? please also give me the image size at these resolutions.
#

Resolution

(H x V)

Equal Optical Magnification

Area

Scan time

(min, sec)

Image Size

(MegaPixels)

File Size

(RGB 24-bit)

0

40,800 dpi  x 40,800

70x

0.9" x 2.9" /

22.86mm x 73.66mm

50m

4,345MP

15GB

1

40,800 dpi x 40,800

70x

10mm x 10mm

4m 45s

258MP

844MB

2

30,600 dpi x 30,600

52.5x

10mm x 10mm

3 min

145MP

528MB

3

20,400 dpi x 20,400

35x

10mm x 10mm

1min 34s

64.5MP

209MB

4

10,200 dpi x 10,200

17.5x

10mm x 10mm

1min 20s

16.1MP

50.6MB
3. Does your software allow an adaptive scale bar? I meant the scale bar size changes by zooming in and out. 
We are still working on the software features. We will definitely include zoom in and out functions on the scanner.
4. Are you able to adapt your system to work with 2"x3" slide size? how about adding a polarizer? 
To make this question clear, there are two points that we have to discuss.
1. If you just wanted to put the 2″x3″-size slide into the scanner, that would not be a problem.
2. If you like to increase the scan area to 2″x3″, it would not only need to adjust the design of the machine but also double the processing time.
Of course, we can add a polarizer on the scanner.
5. have you ever done any test on a human blood cell slide? it would be great if you make that image for me. 
We have done the test of human blood cell. Unfortunately, the image is not clear enough, so it is suggested that this scanner is suitable for observing the features which are bigger than 10μm.
6) How can we control the focus with this scanner? What options do we have? 
The scanner will automatically control the focus.
Meanwhile, you can control the focus when you select the scan area by clicking a position in that area.
7) Do you have any image enhancement filters option before and after the scanning? 
The images are saved in the original format without applying any filter. You can use any enhancement filters after capturing the scanned imaged.
8) Can you make the system open, then an end-user can put a large sample like petri-dish instead of glass slide?
You can put a removable cover to protect from the outside light.
This requires a redesigning the housing and structure of  the scanner, but we can consider depending on the quantity.