BIM-800FLS Inverted Epi-Fluorescent Biological Microscope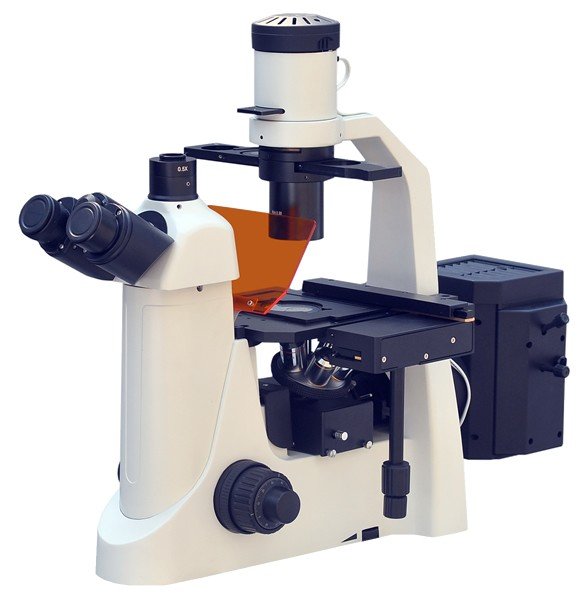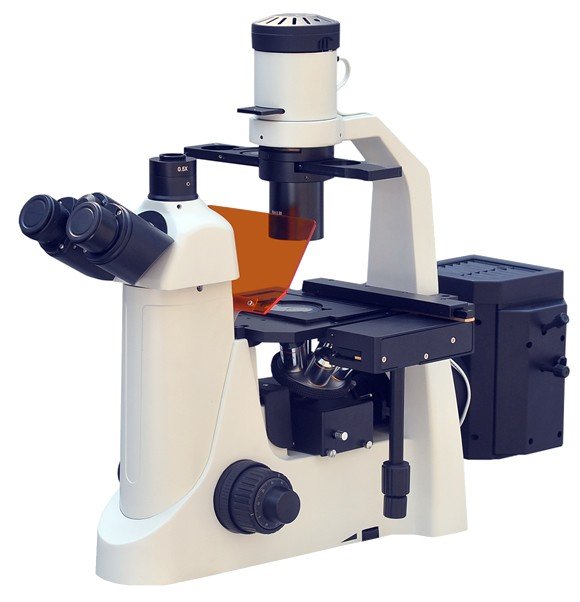 BIM-800FLS Inverted Fluorescent Biological Microscope is specifically designed for the observation of cell culture with high quality optics and advanced fluorescent imagig capability. Infinity correcetd optical system gives excellent imaging performance. Super high resolution fluorescent objectives are offered to generate high quality fluorescent images. This user-friendly microscope acquisition systems allows undergraduate and graduate students with various degrees of microscopy experience to examine a wide range of samples  such as live cells, fixed cell, histological preps, microfluidic devices, bead samples, range of fluorophores, etc with high reproducibility.
Features
UCIS Infinity Independent Achromatic Optical System
Seidentopf binocular viewing head, inclined 30o, 52-75mm interpupillary distance settings, ±5°Diopter adjustment
WF10X plan eyepieces, 20mm field of view, high eye point up to 21mm
Quintuple nosepiece inward facing with positive click stops
Infinity long work distance plan Achromatic 10X, 20X, 40X and Infinity long work distance phase-contrast 20X objectives
Mechanical stage, 180mmX155mm, move range 80mmX50mm
N.A. 0.30 Abbe condenser with iris diaphragm, with phase-contrast slide, long work distance 72mm
Coaxial coarse and fine focus mechanism with markings. Fine focus sensitivity 0.001mm

 

6 volt 30 watt halogen illumination

 

Dust cover, power cord
Fluorescence illumination system: 100W mercury lamphouse and power supply , B/G/UV/V fluorescence filter block(two groups based on your own choice)
110V-240V Wide voltage
Applications
It can be used to observe transparent livings which are not stained, particularly living cells, tissues, fluids, sediments etc. It is an ideal instrument for biology, cytology, oncology, genetics, immunology and other research works. It can be used in scientific research institutes, universities, medical care centers, disease prevention, quality inspection, agriculture, animal husbandry and other departments. It can also be used in venereal disease examination and immune diagnosis.
Few Highlights
Optical System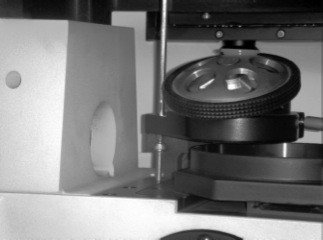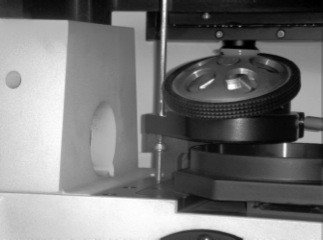 Ask us< how to add or swap with Japanese objective lenses and save lots of money (1,25x, 2.5x, 4x, 10x, 20x, 40x (dry or oil), 50x(dry or oil), 60x (dry), 100x (oil)).
Plenty of Accessories
Epi-Fluorescent Compnents:
a) Filter  Sets: B, G, UV, V
Excitation filter B/G/U/V, CHROMA Brand

Blue Excitation Filter, BP460~490, DM500, BA520
Green Excitation Filter, BP510~550, DM570, BA590
Ultraviolet Excitation Filter, BP330~385, DM400, BA420
Violet Excitation Filter, BP400~410, DM455, BA455

  
Ask us how to add a new filter set with any specifiction you need.
This scope has a 3-spot filter slider. To have a filter wheel, please choose BIM800FLW model.
b) illumination
Specification
Optical System
UCIS infinity independent achromatic optical system
Frame

One-piece construction from arm to base

Head
Seidentopf trinocular head, 30° inclined, interpupilary distance 52-75mm, diopter adjustable
Eyepiece
Plan WF10x/20mm, plan, high eyepoint up to 21mm,
Centering Attachment
Centering telescope
Objective
Infinity LWD plan achromatic objective 10x
Infinity LWD plan achromatic objective 20x
Infinity LWD plan achromatic objective 40x
Infinity LWD plan phase contrast objective 20x
Focus System
Coaxial coarse and fine focus mechanism with markings, fine focus sensitivity 1?m, coarse range 14mm
Nosepiece
Quintuple, reversed type with positive click stops
Stage
Low position, mechanical stage, size 180x150mm, moving range 80x50mm.
Drop specimen holder(?110)
Specimen holder
Light Source
Abbe condenser N.A. 0.30 with iris diaphragm, with phase contrast slider, long work distance 72mm
6V30W Halogen lamp house
Electrical part for 6V30W halogen lamp
6V30W Halogen bulb (Osram)
250V/3.15A ?5×20 fuse
Power supply 110-240V 50/60Hz
Blue filter (?34)
Green filter (?34)
Yellow filter (?34)
Fluorescence
100W mercury lamp house
100W Power supply unit
100W mercury bulb
Fluorescence illuminator
Excitation filter B
Excitation filter G
250V/5A ?5X20 Fuse
Phase Contrast
Phase contrast slider (for 10x/20x/40x phase contrast and brightfield observation)
Other
Allen screw driver 2mm
Dust cover
Power cord
Optional Accessories
Item No.
Head
Seidentopf binocular head, 45° inclined, interpupillary distance 48-75mm, diopter adjustable
BIM800FLW-BH
Eyepiece
WF10x/22mm plan eyepiece, high eyepoint
BIM800FLW-10×22
WF10x/20mm, plan, high eyepoint up to 21mm, diopter adjustable
BIM800FLW-10×20
WF16x/13mm, plan
BIM800FLW-16×13
Objective
Infinity plan achromatic objective 4x
BIM800FLW-4xbf
Infinity LWD plan achromatic objective 60x
BIM800FLW-60xLWD
Infinity LWD plan phase-contrast objective 10x (positive)
BIM800FLW-10xPB
Infinity LWD plan phase-contrast objective 40x (positive)
BIM800FLW-40xPB
Infinity LWD Plan Phase-Contrast Objective 10x (Negative)
BIM800FLW 10xNB
BIM800FLW-20xNB
Infinity LWD Plan Phase-Contrast Objective 40x (Negative)
BIM800FLW-40xNB
Stage
Mechanical Stage, Size 350x208mm?Moving Range 50x50mm
BIM800FLW-xy50
Adapter
0.25x C-Mount
BIM800FLW-0.25XC
Digital camera adapter (need to know camera brand)
BIM800FLW-DSLR-X
Bulb
6V30W Halogen bulb
BIM800FLW-6v30W
Specimen Holder
125×85
BIM800FLW-XY-125
Fluorescence Attachment
100W DC Mercury lamp house
BIM800FLW-HBO
Power supply unit for 100W DC mercury lamp
BIM800FLW-HBO-PS
Epi-fluorescent illumination,multi-functional semi-reflector
BIM800FLW-RF
Excitation Filter B, CHROMA Brand
BIM800FLW-IB
Excitation Filter G, CHROMA Brand