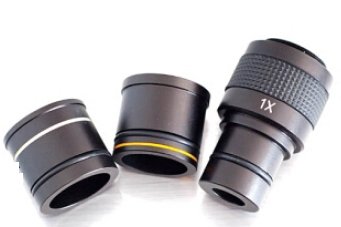 C-Mount adapter allows you to connect a digital camera to your microscope through trinocular head or photo port (side port or back port depending on the brand and model).
C-Mount adapter for use with a camera with "C" threads. Fits in a 23mm inside diameter trinocular port.
For use with all types of microscopes or use with eyepice mount, we offer a 30.00 and 30.50mm adapters. It is important to match the size of your camera chip to the magnification in your C-Mount adapter.
The chart below lists camera chip sizes and suggested adapters.
| | | | | |
| --- | --- | --- | --- | --- |
| Camera Sensor size | 1/3",1/4" or smaler | 1/1.8",1/2",1/2.5" or smaller | 2/3" or smaller | 1" or smaler |
|  Suggessted C-Mount Adapter |  0.35x |  0.45x, 0.5x or 0.55x |  0.63x, 0.66x or 0.7x |  1x |
If you need help, please contact us and specify your microscope brand and model and your camera brand, model and chip size (if you know), Bioimager engineers will help you choose the right adapter magnification;