What is RTIS?
Realtime Telepathology Imaging System™ (RTIS™) is the latest patent pending solution for communicating diagnostic quality images between pathologists and it is very simple to use.
The brain of RTIS™ is a special compression-decompression device (codec) with its own built in web server that allows users to use an Internet browser to view a live signal from a unique, fully automatic, high definition (HD) video camera. The camera attaches to any existing microscope via a 'C' mount and what you see through the eyepieces is what is being broadcast to remote observers. In order to see live streaming images, a commercial grade 42-inch HD monitor is also included. The large display monitor is essential for optimum visual impact. In this case, the significantly larger than life images have a profound impact on understanding what is actually being viewed. The images being broadcast can travel over the Internet or Intranet using your own server. Since no patient information is broadcast, it is HIPAA compliant.
The people who you communicate with simply view the live streaming video on their own computer monitors. All they have to do is type in the IP address of the Realtime Telepathology Imaging System™ using the URL address bar of their browser and watch.
All the broadcast operator does is control the microscope. What he sees on the large screen monitor is what is being broadcast. One simply uses a telephone or conference bridge to communicate audio back and forth. What could be simpler?
No software to learn, no complicated setup, no long term service commitments and no yearly maintenance fees.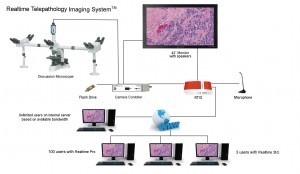 Realtime Telepathology Imaging System™ Basic Design
What can RTIS do?
The Realtime Telepathology system can transmit HD images to 3 or 100 people simultaneously on the Internet. The Realtime Telepathology will support up to 3 viewers simultaneously while the Realtime Telepathology-Pro can handle up to 100 viewers simultaneously. There is unlimited streaming to people on the same intranet server. The Realtime Telepathology Imaging System™ can be used on PCs or Macs and theRealtime Telepathology-Pro can also be used with iPads and iPhones.(However, due to the small screen size of iPad's and iPhones they are NOT recommended receiving devices). Additionally, with the RTIS™ whatever is streaming can be recorded along with audio. It comes with a simple microphone and a large, simple, one button-recording device.
This system compliments existing scanning technology, but offers the advantage of simplicity that is rarely found today. And unlike scanners, oil immersion lenses can be used with amazing clarity. This is the perfect tool for cytopathology, frozen sections, fine needle aspirations and high magnification applications.


hsrc Price $25,000 $29,000
| | | |
| --- | --- | --- |
| Feature | RTIS-Standard | RTIS-Professional |
| Concurrent Viewers | 3 | 100 |
| Resolution | 1920 x 1080p @ 30fps | 1920 x 1080p @ 30fps |
| Camera | Full HD | Full HD |
| Display Monitor | 42″ LCD | 42″ LCD |
| Warranty | 2 year | 2 year |
| Installation | Full installation available | Full installtion available |