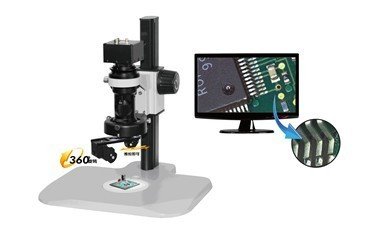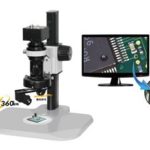 MC70T: Trinocular BF/DF/POL RF/TR Measuring Metallurgical Microscope
---
$USD 11,690.00
Compare
MC70T:Meiji Techno (Japan) Trinocular Brightfield/Darkfield/Simple POlarzied Reflected & Transmitted Measuring Mettalurgical Microscope
The Meiji MC-70T measuring microscope includes the following:
Objective Lenses: Plan Epi brightfield / darkfield infinity corrected M5x, M10x, M20x and M50x objectives. Objectives are mounted in a smooth operating, revolving quadruple ball-bearing nosepiece.
Eyepieces: Siedentopf, erect image trinocular head with depolarizer. Interpupillary adjustment from 53mm to 75mm with graduated diopter on left eyepiece. Inclined at 30 degrees. Includes one DIN HWF10x widefield eyepiece and one HWF10X-F focusing eyepiece with cross-line reticle and guide pin. FN = 22.
Total Magnification: 50x, 100x, 200x, and 500x.
Specimen Stage: Reflected light measuring stage 150mm x 150mm with 50mm x 50mm X-Y movement, with mounting brackets for digital micrometer heads.
Digimatic Indicators: Includes 2 Mitutoyo Digimatic Indicators (one for X axis and one for Y axis movement). Range = 50mm.
Focusing: Coaxial coarse and fine focus block.
Illumination: Infinity corrected vertical Koehler illuminator, focal length 200mm, with sliding rotatable polarizer. Includes filter set of blue clear, green clear, neutral density ND25, and neutral density and polarizing filters in metal mounts. Port accepts 36″ single arm light guide (included). 21v 150w halogen light source included as well in either 110/120v or 220/230v.
Stand: Heavy duty stand with pillar and mounting bracket. Diameter of pillar – 38mm. Height – 432mm (17.28″). Base is 300mm x 300mm x 25mm.
Digimatic Indicators: Includes X and Y axis Mititoyo digimatic indicators. Range: 50mm (2″).
Warranty: Meiji Techno warrants this product against defects in material and/or workmanship for the life of the instrument from the date of original purchase to the original purchaser. Electrical warranty is 90 days.
Based on 0 reviews
Only logged in customers who have purchased this product may leave a review.