FAST, AFFORDABLE WHOLE SLIDE IMAGING 
The new Glissando scanner delivers fast, high quality whole slide image acquisition in an affordable package. The compact footprint and simple, intuitive user interface make the Glissando scanner the ideal platform for quick scanning of standard microscope slides.
The Glissando Slide Scanner integrates the latest automation technologies and high quality components with our proven TurboscanTM scanning engine to provide an effective, reliable—and affordable—tool for the rapid acquisition of Whole Slide Images (WSI) from standard glass microscope slides.
The easy-to-use Glissando software's intuitive design and automated tissue detection, focus setup, and barcode reading ensure excellent results, right out of the box.
Contact us for further details about the Glissando scanner and other automated scanning products.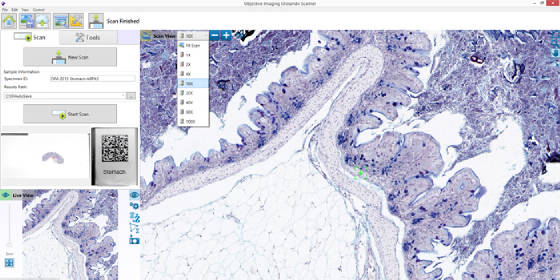 Glissando Slide Scanner Features
Excellent price/performance
Compact, convenient size
Scan up to two standard glass slides
Fast, high-quality whole slide images
1D and 2D barcode reader
Automatic tissue detection and focus setup
Proven TurboscanTM high performance tile scanning engine
Integrated system control computer with Ethernet connection
Efficient, intuitive software interface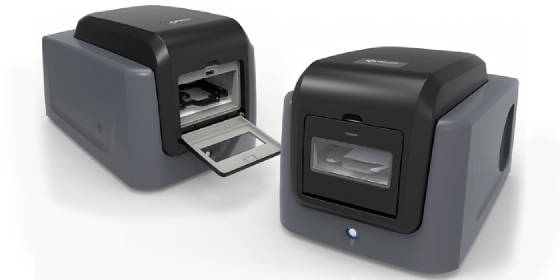 Specifications
Slide Capacity – Up to two 25 mm X 75mm glass slides.
Scanning Engine – TurboscanTM fast tiling technology with predictive focus
Tissue Detection – Automatic region definition and focus setup
Scanning Objective Lens – 20X/0.75 Plan Apo
Camera Sensor Size – 2048 X 2048 pixels
Sensor Image Resolution – 0.5 μm (with 20X objective)
Barcode Reader – Image-based 1D and 2D (Datamatrix, QR Code)
Control Computer – Integral Windows 8 mini-PC with Ethernet connection
On-board Storage – 256 GB solid state drive
Physical Dimensions – 320 mm (W) x 297 mm (H) x 447 mm (D)
Electrical – Universal AC input, 50/60 Hz
Turboscan Examples
Mouse, Transverse Section
10X Objective / 1X C-mount
Calibration: 0.46 µm/pixel
Scan fields: 17 x 20, 340 total
Size at full resolution: 340 x 4.2 MB = 1.4 GB
Scan area: 10.6 x 9.2 mm = 98 sq. mm
Scan time (snake scan with predictive focus and shading correction): 42 secs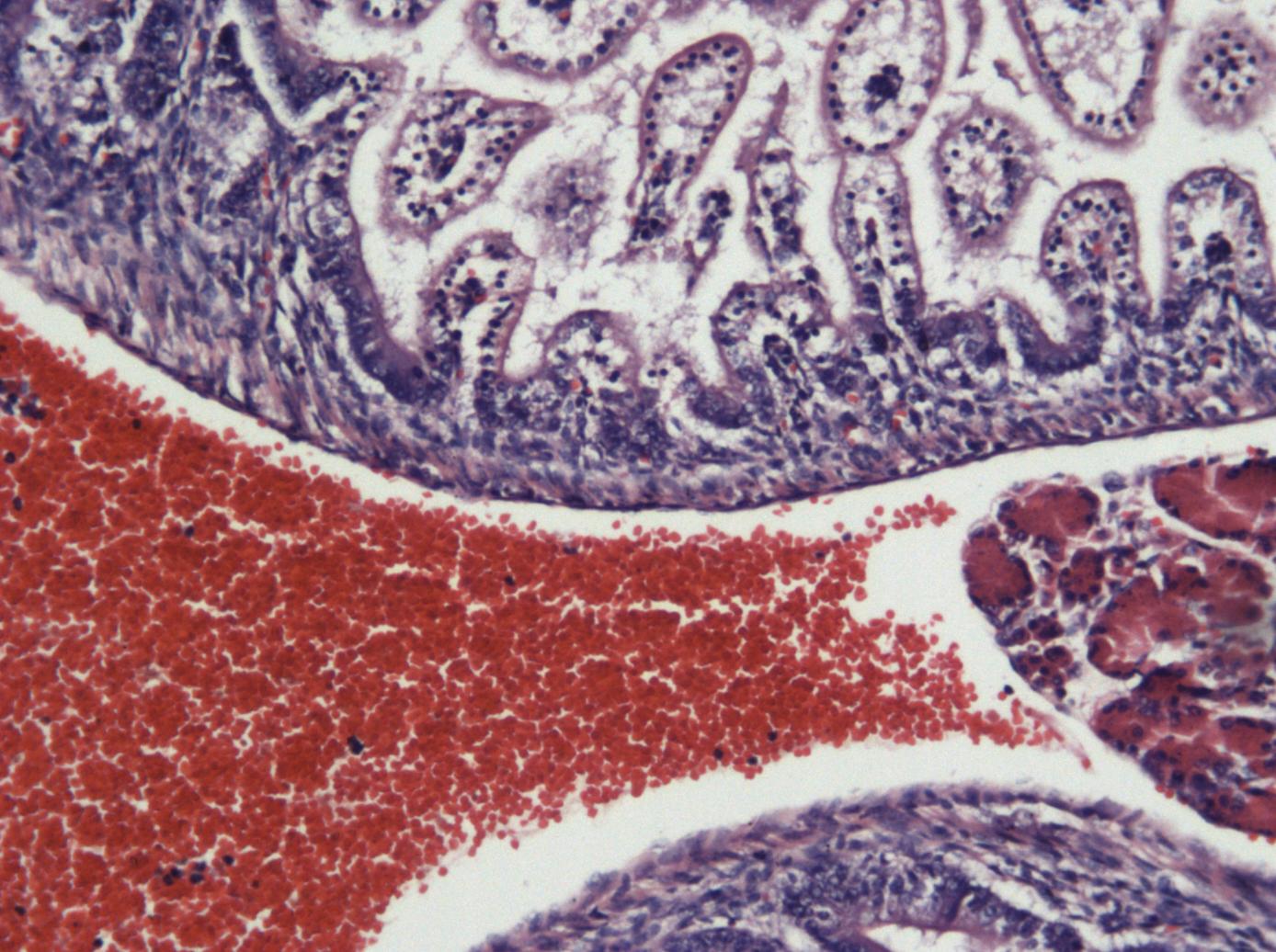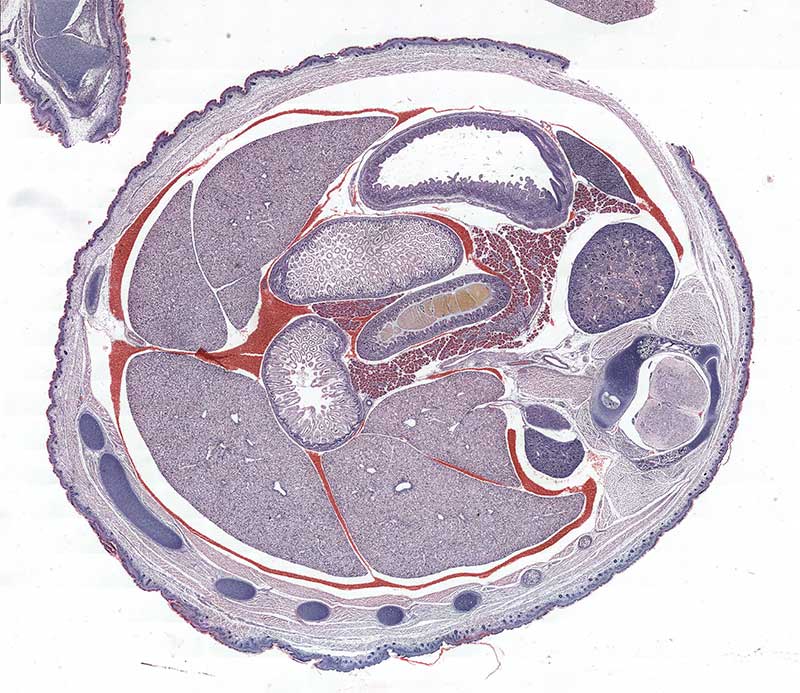 Actual mosaic resolution: 22,208 x 17,612 pixels
Zebra Fish
10X Objective / 1X C-mount
Calibration: 0.46 µm/pixel
Scan fields: 16 x 17, 272 total
Size at full resolution: 272 x 4.2 MB = 1.2 GB
Scan area: 9.2 x 7.3 mm = 67 sq. mm
Scan time (snake scan with predictive focus and shading correction): 37 secs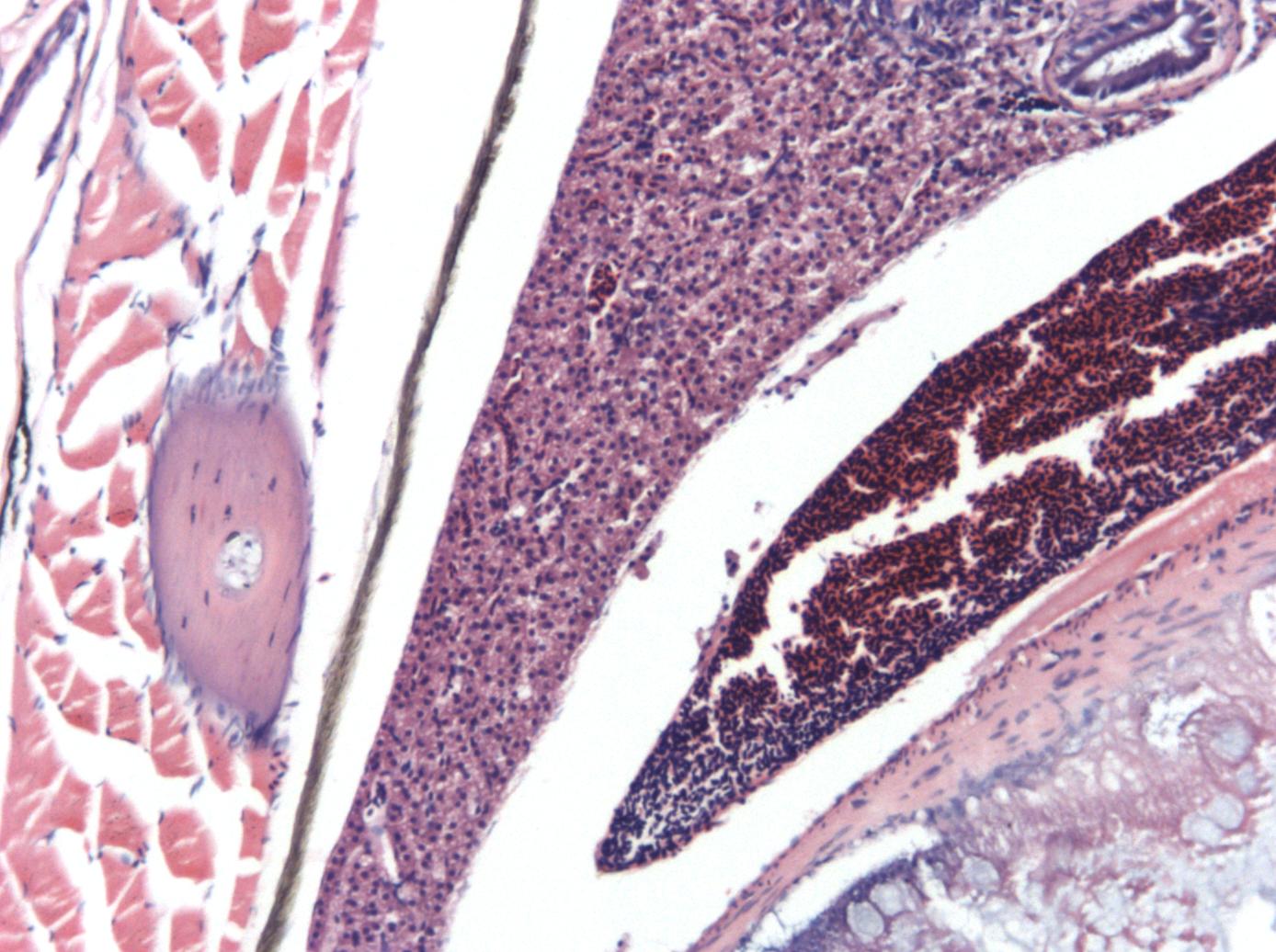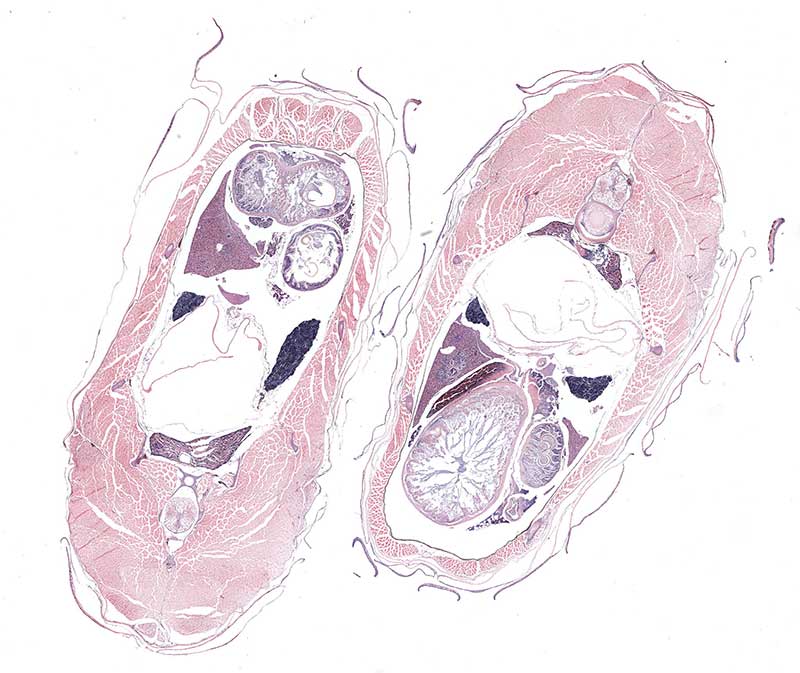 Actual mosaic resolution: 23,596 x 20,720 pixels
Appendix, Human
10X Objective / 1X C-mount
Calibration: 0.46 µm/pixel
Scan fields: 16 x 18, 288 total
Size at full resolution: 288 x 4.2 MB = 1.25 GB
Scan area: 10.1 x 8.2 mm = 83 sq. mm
Scan time (raster scan with predictive focus and shading correction): 54 secs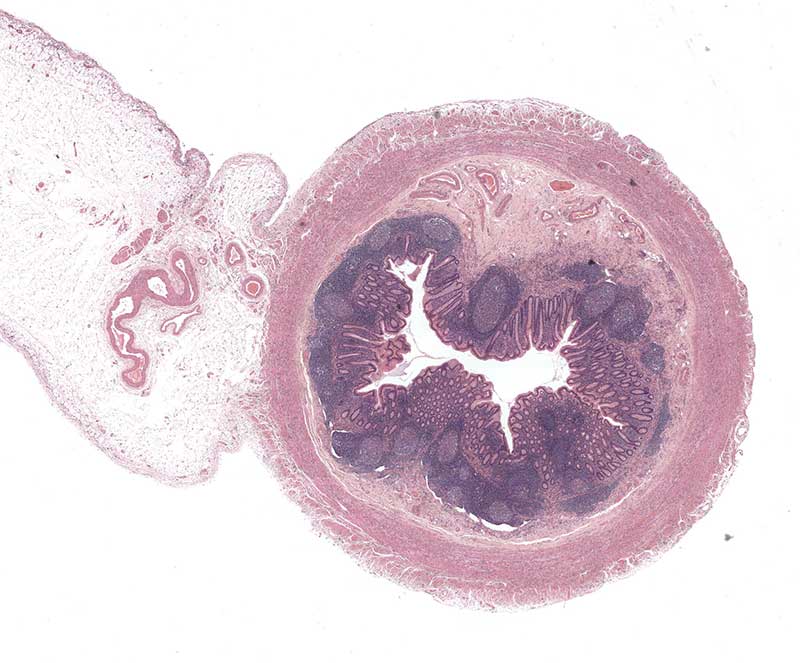 Actual mosaic resolution: 22,208 x 18,648 pixels
Mouse Foetus, Lateral Section
10X Objective / 1X C-mount
Calibration: 0.46 µm/pixel
Scan fields: 20 x 16, 320 total
Size at full resolution: 320 x 4.2 MB = 1.3 GB
Scan area: 12.5 x 7.4 mm = 93 sq. mm
Scan time (snake scan with predictive focus and shading correction): 46 secs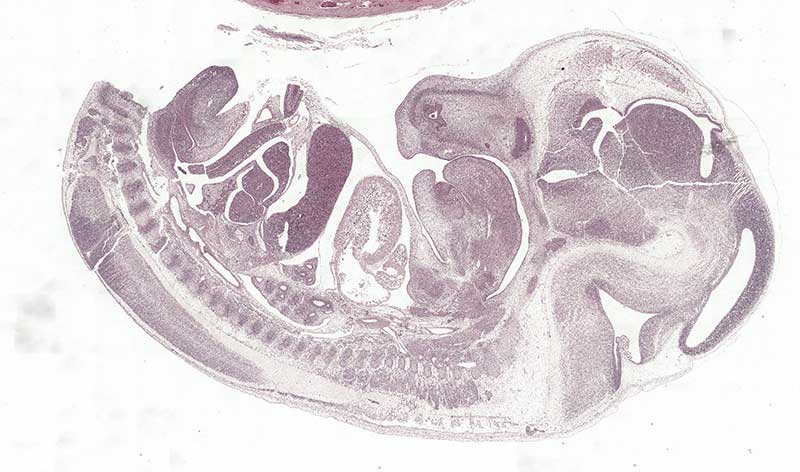 Actual mosaic resolution: 27,760 x 16,576 pixels
Eye Section, Rabbit
10X Objective / 1X C-mount
Calibration: 0.46 µm/pixel
Scan fields: 19 x 23, 437 total
Size at full resolution: 437 x 4.2 MB = 1.8 GB
Scan area: 11.9 x 10.6 mm = 126 sq. mm
Scan time (raster scan with predictive focus and shading correction): 1 min 19 secs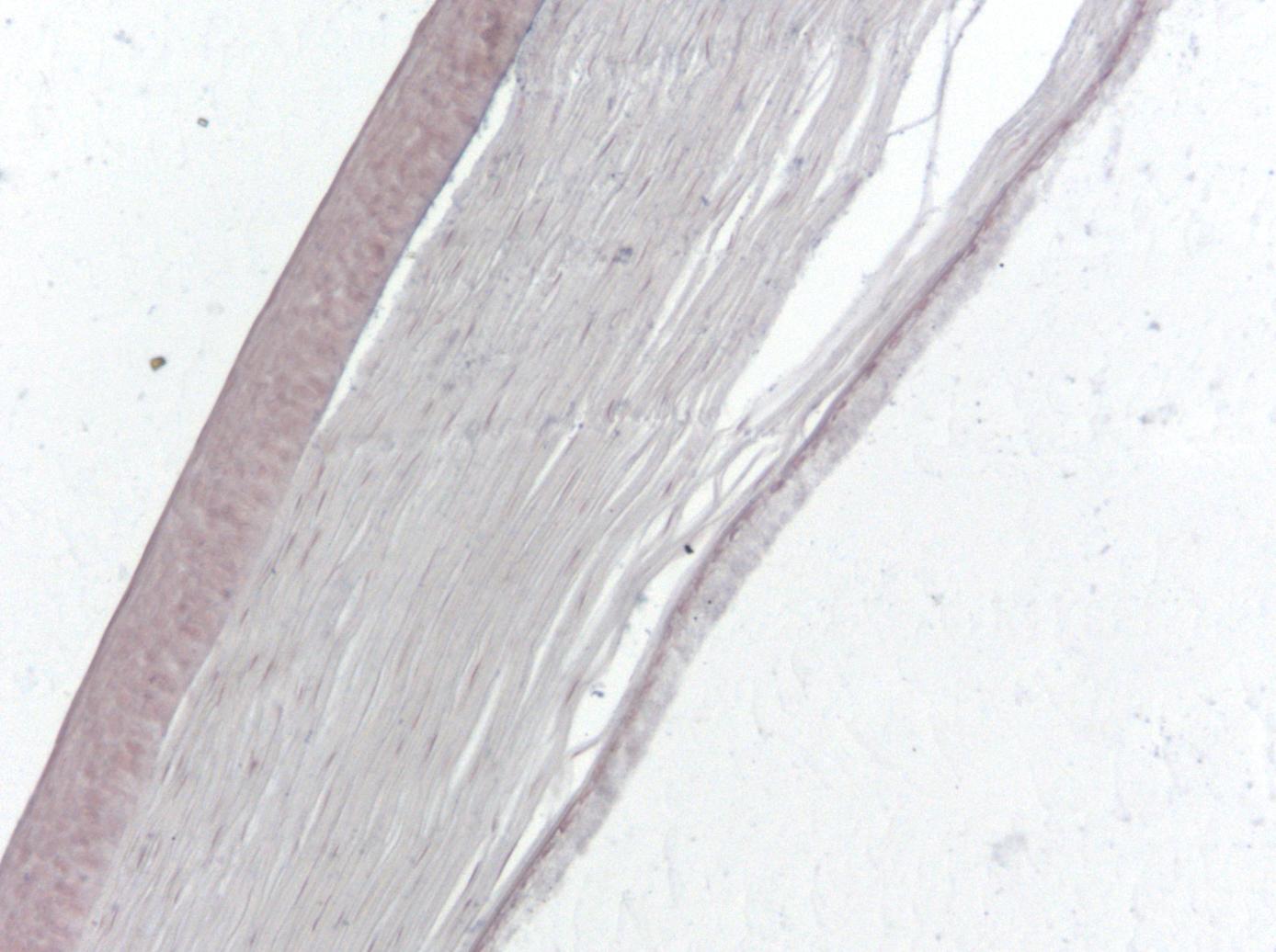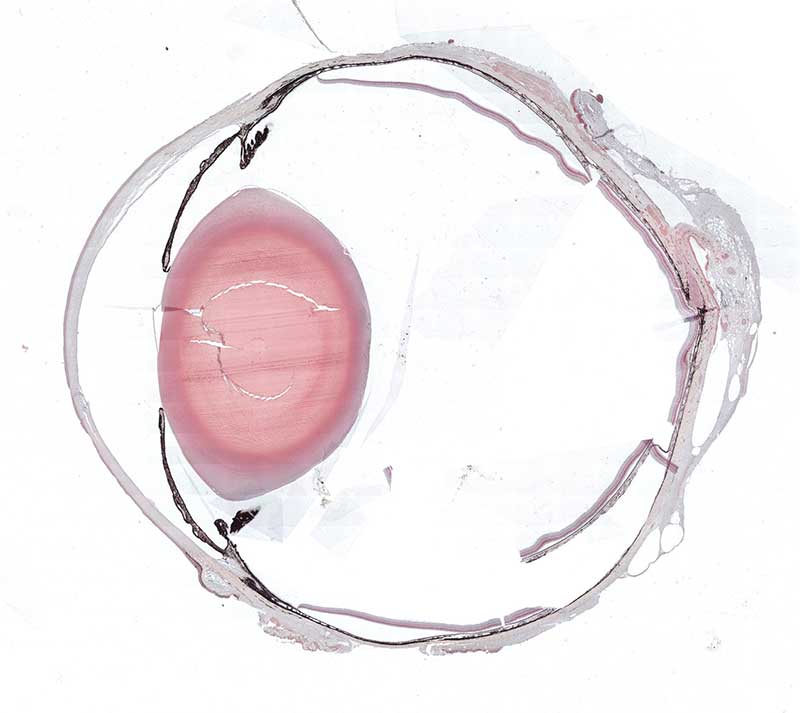 Actual mosaic resolution: 26,372 x 23,828 pixels
Human Skin, Showing Follicles
10X Objective / 1X C-mount
Calibration: 0.46 µm/pixel
Scan fields: 15 x 15, 225 total
Size at full resolution: 225 x 4.2 MB = 0.95 GB
Scan area: 9.4 x 6.9 mm = 65 sq. mm
Scan time (raster scan with predictive focus and shading correction): 38 secs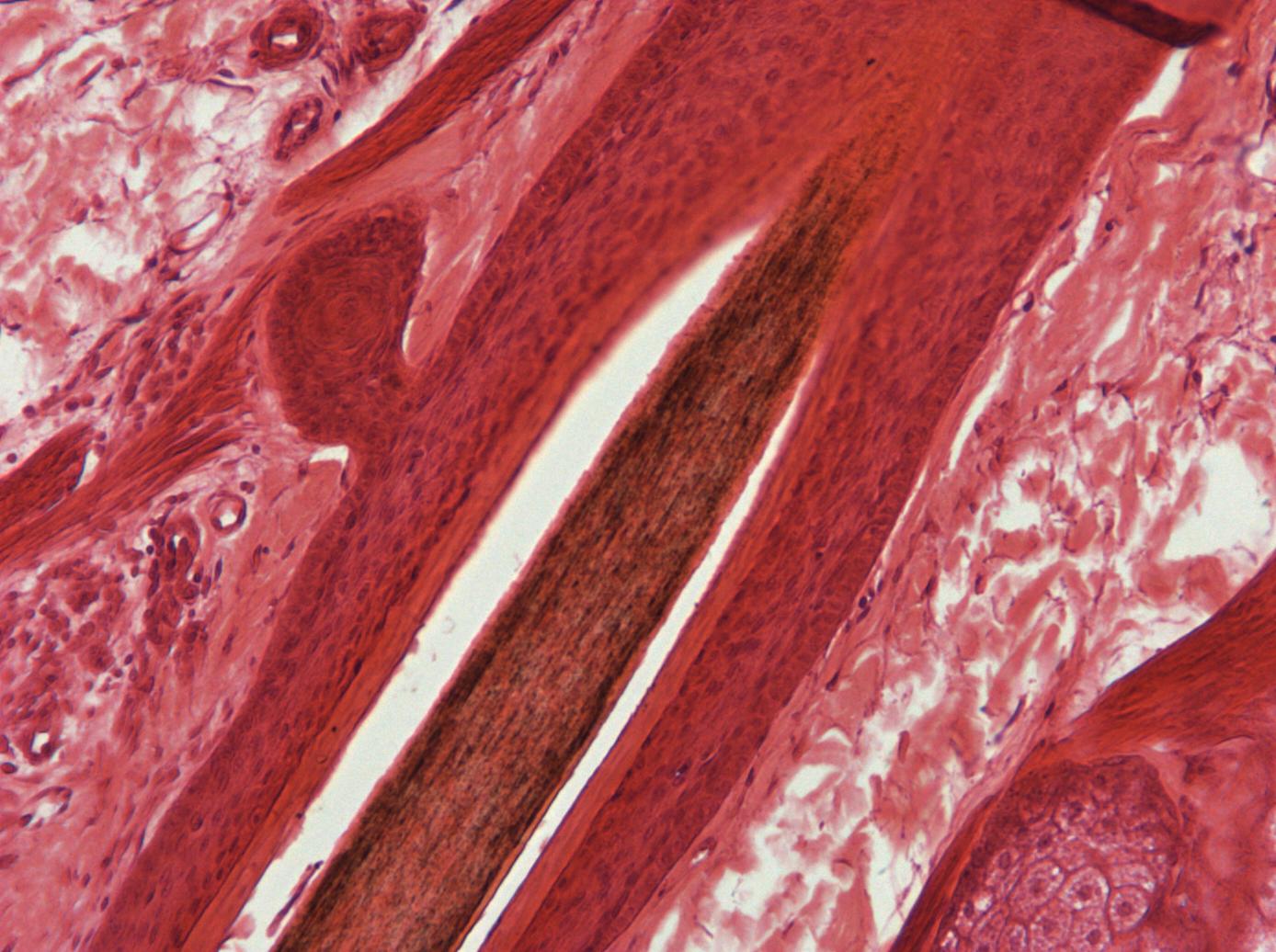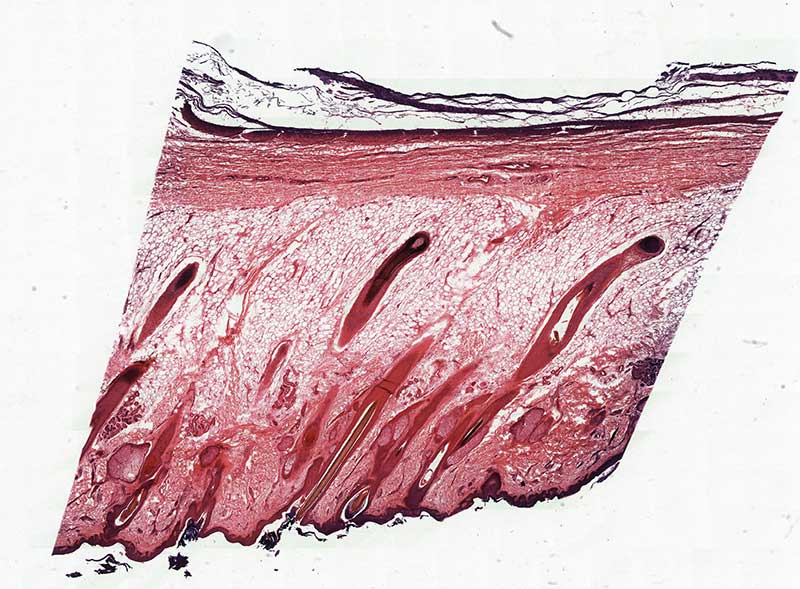 Actual mosaic resolution: 20,820 x 15,540 pixels