Introduction
BUM350FLD compound digital LCD fluorescence microscope renovated the traditional way of microscopic observation and thoroughly resolves the fatigue for a long time working. Eyepieces and LCD Screen can both be used for convenient and comfortable viewing by individuals and share with groups. It is also feature the latest 5 Mega Pixels digital imaging microscopy techniques for quick and easy snapshots or videos.
Features
Objective Lenses
Achromatic fluorescence objective lens, providing high-quality optical imaging and ensuring clear images.
Illumination
More stable and reliable power supply boxes, with digital display and a timer.
Epi-Fluorescence System
Protect the light leak with advanced lamp housing.
LCD Screen
1. It is consisted of a fluorescence microscope, an 8″ LCD screen and a 5 Mega Pixels camera, images and videos can be share with other people.

2. Real time images display, images and video recording.

3. USB Cable for transferring data to a PC.

4. SD card (Maximal Storage Capacity is 4G) slot for storage and printing.
Application
This microscope is an ideal instrument for biology, cytology, oncology, genetics, immunology and other research works, it can be used in scientific research institutes, medical care, vaccination, animal husbandry and other departments, it also can be used in venereal disease examination and immunity diagnosis.
Sample Images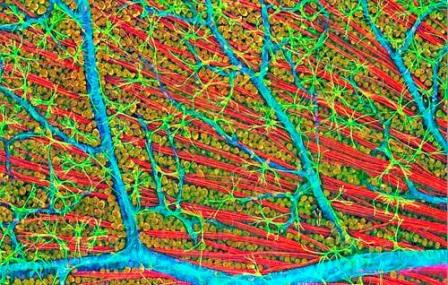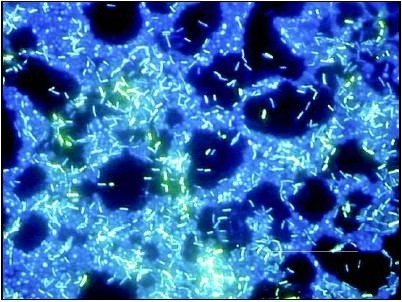 Specification
Digital Parts
Resolution
5 Mega Pixel
Photo Resolution
2560X1920-1600X1200
Video Resolution
640X480
Sensor Size
1/2.5 Inches
LCD Screen
8 Inches TFT Screen, Resolution is 800X 600
Video Output
AV Output (NTSC/PAL)
Data Output
USB2.0
Menu Language
English
Storage
SD Card Slot with Optional Memory Cards (Maximal Storage Capacity is 4G)
Scene Mode
Standard / Softness / Vivid
Exposure Mode
Auto Exposure
Date Mode
Year, Month, Day, Hour, Minute
Optical Parts
Viewing Head
Compensation Free Binocular Head, Inclined at 30°
Eyepiece
Wide Field Eyepiece WF10×/ 18
Objective
Achromatic Objective 4×,10×, 40, 100×
Nosepiece
Quadruple Nosepiece
Condenser
NA 1.25 Abbe Condenser with Iris Diaphragm and Filter
Focusing System
Coaxial Coarse & Fine Adjustment
Stage
Double Layers Mechanical Stage 140×140mm/ 75×50mm
Illumination
Halogen Lamp 6V/ 20W, Brightness Adjustable
Filter
Blue & Green Filter
Dark Field Attachment
Dark Field Condenser (Dry)
Dark Field Condenser (Oil)
Fluorescent Attachment
Epi-fluorescent Attachment
Optional Parts
Phase Contrast Kit
Single Phase Contrast Kit
Sliding Phase Contrast Kit
Turret Phase Contrast kit
Polarization Set
Simple Polarization Set
Characteristics of Mirror Units Wavelength