BMI600L Metallurgical Inverted Transmitted LCD Microscope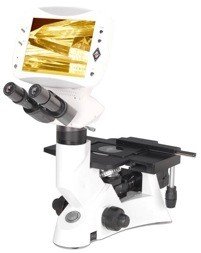 Introduction
BMI600L Digital LCD Inverted Metallurgical Microscope is consisted by an inverted metallurgical microscope, a high definition LCD screen and a 5 Mega Pixel camera. It renovated the traditional way of microscopic observation and thoroughly resolves the fatigue for a long time working. Eyepieces and LCD Screen can both be used for convenient and comfortable viewing by individuals and share with groups. It is also feature the latest 5 Mega Pixels digital imaging microscopy techniques for quick and easy snapshots or videos.
Features
Specially designed metallurgical analysis optical system and a 9″ LCD screen, images and videos can be share with other people.
5 MEGA pixels with real time imaging display, images and video recording and re-playing function.
Inverted structure for some special application.
12VDC power supply, safety and reliability of low voltage (Input Voltage 90-240V).
USB Cable for transferring data to a PC.
SD Card slot for storage, printing, optional SD cards (Maximal Storage Capacity is 4 GB).
Multi-function top LED ring illuminating system, four-region can be control separately.
Application
BMI600L is specially designed for studies of casting, smelting, heat treatment, inspection of raw materials, and analysis of processed materials. It is widely used in institutes, laboratories and factories to observe and identify the structure of various metal and alloy.
Specification
Digital Parts
Resolution
5 Mega Pixel
Photo Resolution
2560×1920
Video Resolution
1280×720/30fps
Sensor Size
1/2.5 Inches
LCD Screen
9 Inches HD LCD Screen, Resolution is 1280×800
Video Output
HDMI
Menu Language
Nine Languages (English, Germany, French, Spanish, Russia, Japanese, Korean, Latin, Arabic)
Storage
SD Card (4 GB)
Exposure Mode
Auto Exposure
Date Mode
Year, Month, Day, Hour, Minute
Optical Parts
Viewing Head
Seidentopf Binocular Head, Inclined at 30°, Interpupillary Distance 48-75mm
Eyepiece
High-point, Extra Wide Field Eyepiece EW10×/ 22
Objective
Infinite Plan Achromatic Objective 4×/ 0.1,10×/ 0.25,20×/ 0.40,40×/ 0.60
Nosepiece
Quintuple Nosepiece
Stage
Plain Stage
Focusing
Coaxial Coarse & Fine Adjustment, Vertical Objective Movement, Coarse Stroke 37.7mm per Rotation, Fine Stroke 0.2mm per Rotation
Illumination
Halogen Lamp 6V/ 30W
Filter
Blue, Yellow, Green and Ground Glass
Polarization Set
Simple Polarization Attachment
Optional Parts
Objective
Infinite Plan Achromatic Objective 50×/ 0.75, 80×/ 0.90
Stage
Attachable Mechanical Stage, X-Y Coaxial Control, Moving Range 120×78mm
Auxiliary Stage
Centering
Centering Telescope (Φ30MM)
Sample Images