BS6000B Metallurgical Inverted Transmitted Microscope
BS-6000B Inverted Metallurgical Microscope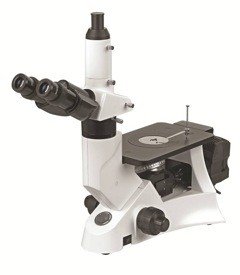 Introduction
BS-6000B not only can identify and analyze a variety of metals, alloys, non-metallic material and the organizational structure and integrated circuits, but also micro-particles, wires, fibers, surface coating such as some of the surface conditions. Digital cameras can be added to the trinocular tube to take images and make image analysis.
Features
1. Infinite optical system provides excellent optical functions.
2. With the stable stand structure, advanced stage design and comfortable operation.
Application
BS-6000B is widely used in institutes and laboratories to observe and identify the structure of various metal and alloy, it also can be widely used in electronics, chemical and instrumentation industry, observe the opaque material and transparent material, such as metal, ceramics, integrated circuits, electronic chips, printed circuit boards, LCD panels, film, powder, toner, wire, fibers, plated coatings, and other non-metallic materials and so on.
Specification
Viewing Head
Trinocular head inclined at 30°, interpupillary distance 48-75mm
●
Eyepiece
High-point, extra wide field eyepiece EW10×/ 20
●
Infinite Plan Achromatic Objective
4×/ 0.1/∞/-    WD 17.3mm
●
5×/0.12/∞/-    WD 15.4mm
○
10×/0.25/∞/-   WD 10.0mm
●
20×/0.40/∞/0   WD 5.8mm
●
40×/0.65/∞/0   WD 0.52mm
●
40×/0.60/∞/0   WD 2.9mm
○
50×/0.75/∞/0   WD 0.32mm
○
80×/0.90/∞/0   WD 0.2mm
○
100×/0.80/∞/0  WD 2mm
○
Nosepiece
Quintuple nosepiece
●
Stage
Plain stage with slide clips
●
Attachable mechanical stage, X-Y coaxial control, moving range 120×78mm
○
Double layer mechanical stage 226×178mm, Moving range 50×50mm
○
Auxiliary stage
○
Focusing
Coaxial coarse & fine adjustment, Vertical objective movement, Coarse stroke 37.7mm per rotation, Fine stroke 0.2mm per rotation
●
Kohler Illumination
Halogen lamp 6V/ 30W, Kohler illumination
●
Filter
Blue, Yellow, Green and Frosted filters
●
Polarization Attachment
●
Photo Attachment
○
Video Adapter
Video adapter with C mount
○
Note: ●Standard parts  ○Optional parts
Sample Images
Item #BS6000B