Introduction
Spectrophotometers are widely used for Organic chemistry, Inorganic chemistry,Life sciences,foods, Medicine and health, Agriculture,Geology,Metallurgy and Environment etc.fields.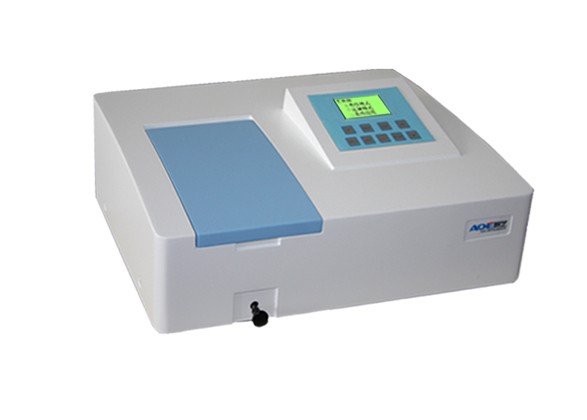 Functions and Applications
Photometric:Set the factor K, The direct calculation of k*a results. Measurement data can be saved.
Quantitative – Test total nitrogen by double wavelength method:
Double wavelength test method △A=MA1-NA2, can calculate the linear of inputted concentration C and △A,
Application: Test method of total nitrogen in water quality monitoring: △A=A220-2A275
Spectrum:Application for hexavalent chromium: The colored matter reacted from hexavalent chromium aqueous solution and diphenylcarbazide. One key for looking for the peak in spectrum function, looking in data sheet, as well. The position of absorption peak as picture 540nm. By marking the curve and quantitative to test the sample concentration.
Kinetics:Test the sample changes in a period, get △A/t, display the spectrum curve.
Multiple Wavelength Application: Neutral filter 10% measurement accuracy.
BIO: DNA/Protein test, test the sample's protein and DNA concentration.
Save: Measurement data, scanning patterns are preserved at the host and disk U
One Key Upgrade: Plug the USB with upgrade program, switch on and go to upgrade menu, press no. key 1, the instrument will be upgraded automatically.