103350 Confocal 35-mm Black Coverglass-Bottom Petri-Dish, d=20mm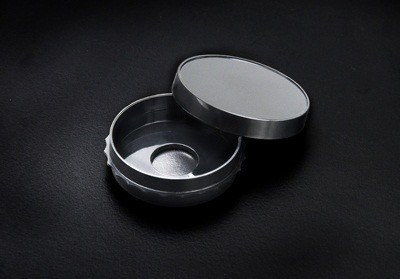 SPL product with a coverglass bottom is easy to use and facilitates preparation of cells for microscopic analysis. Optically clear with low background fluorescence coverglass was used. Ideal for use in high resolution and inverted microscopy, fluorescence imaging in live cells, confocal microscopy, phase contrast microscopy and micro-manipulations.
▪ Dish size : 35 mm Plate size: 6well plate(Cat.NO. 30106, 30206)
▪ Hole size : 13 Øor 20 Ø
▪ Coverglass size : 22 x 22 mm(adhesion type, hole 13 Ø), 24 x 24(insert and adhesion type, hole 20 Ø)
▪ Coverglass thickness : 0.13 ~ 0.16 mm
▪ External grip 35 mm dish are available
▪ Black color 35mm dish is also available
▪ Sterilized by gamma irradiation
▪ Polystyrene
| | | | | | | | | | | | | |
| --- | --- | --- | --- | --- | --- | --- | --- | --- | --- | --- | --- | --- |
| Cat. No. | Color | Material | Dish Style (mm) | Internal Dimension (mm) | Hole (mm) | Growth Area (㎠) | Working Vol. (ml) | External Grip | Surface Treated | Sterilized | Method | Units per Sleeve/Case |
| 100350 | Clear | PS | 35 x 10 | 34.3 x 9.3 | 13Ø | 9.4 | 3 | + | – | + | Adhesion Type | 5 / 100 |
| 100351 | Clear | PS | 35 x 10 | 34.3 x 9.3 | – | 9.4 | 3 | + | – | + | Insert Type | 10 / 500 |
| 101350 | Clear | PS | 35 x 10 | 34.3 x 9.3 | 20Ø | 9.4 | 3 | + | – | + | Adhesion Type | 5 / 100 |
| 102350 | Black | PS | 35 x 10 | 34.3 x 9.3 | 13Ø | 9.4 | 3 | + | – | + | Adhesion Type | 5 /100 |
| 103350 | Black | PS | 35 x 10 | 34.3 x 9.3 | 20Ø | 9.4 | 3 | + | – | + | Adhesion Type | 5 / 100 |
|   200350 |   Clear |   PS |   35 x 10 |   34.3 x 9.3 |   13Ø |   9.4 |   3 |   + |   + |   + |   Adhesion Type |   5 /50 |
|   30106 |   Clear |   PS |   85.4 x 127.6 |   35 |   13Ø |   9.6 |   3 | |   – |   + |   Adhesion Type |   1 / 4 |
|   30206 |   Clear |   PS |   85.4 x 127.6 |   35 |   20Ø |   9.6 |   3 | |   – |   + |  Adhesion Type |   1 / 4 |
Note: The price is based on the minimal order quantity (MOQ).  The MOQ is 1 case, each case includes 5 packages of 20 petri-dishes.
Shipping & Handling
1. Regular Mail, above 10 days, USD 29.00
2. Express Mail, 4-9 days, USD 99.00
Canadian customers need to add the governmental tax.
Leading time is variable based on the item availability in the warehouse.
according to the recent update (Aug 6th, 2012):  3 weeks.
Item #103350